Alex Christofi lives in south London. His last book, Dostoevsky in Love (Bloomsbury, 2021), is an intimate biography of the writer and his relationships.
1. You spoke about your method for writing the book: "Cheerfully commit the academic fallacy" of eliding Dostoevsky's "autobiographical fiction with his fantastical life". What did you discover in that process?
I think the temptation is to keep anything written in fiction separate from the story of a person's life so as not to 'make things up', but the fiction is incredibly revealing about Dostoevsky's habits of thought. I knew that he had wanted to write his memoirs, and saw that certain passages in his fiction were clearly inspired by his life experience, and by engaging with those as well I was able to find a more intimate relationship with Dostoevsky than I might have otherwise.
2. By the time he was writing 'Devils', his seizures had become so severe that he had no memory, when he regained consciousness, also not the novel's plot or the names of his characters. Did this affect his literature?
Yes, it was debilitating for the writing process, but I also think it changed his perspective on life itself. When he was diagnosed in his early thirties, he was told that he might have a severe fit and die at any time. To have this threat of mortality hanging over you – as well as suffering the trauma of a mock execution – made him acutely conscious of the preciousness of life. It might also help to explain why he wrote in such a feverish rush (well, that and paying off all his debts!).
3. It's interesting how many of his novels were published in serials in newspapers and magazines, step by step, some kind of readership that nowadays most people are not familiar with. But he had faithful followers. It was a kind of Netflix in 19th century, fiction drop by drop. It was another way of writing?
Yes, a bit like with Charles Dickens in England, it was vital to the success of a journal that each part of the novel made you want to read the next issue. Dostoevsky was brilliant at maintaining suspense: in part one of Crime and Punishment we see a young man commit a murder but don't find out whether he will be caught; in part one of The Idiot we see an unworldly young prince thrown into the middle of a St Petersburg society that doesn't quite know what to do with him. Eventually Dostoevsky even decided to start publishing his own journal, A Writer's Diary, which meant he could publish exactly what he wanted on the issues of the day – almost like a modern podcaster.
4. There were seven miraculous years, in which Dostoevsky wrote 'Crime and Punishment', 'The Idiot', and most of 'The Devils'. Is somehow connected with his private life?
Absolutely – his second wife, Anna, was hugely instrumental in the successes of the last fifteen years of his life. They had a family together, she helped him to repay the debts that had plagued his life for years, she was a sort of business manager helping him to publish his writing himself, and of course she took dictation of his novels. Then, when he died, she spent decades organising his archive and promoting his legacy. So it's hard to imagine his life, and his later successes, without her.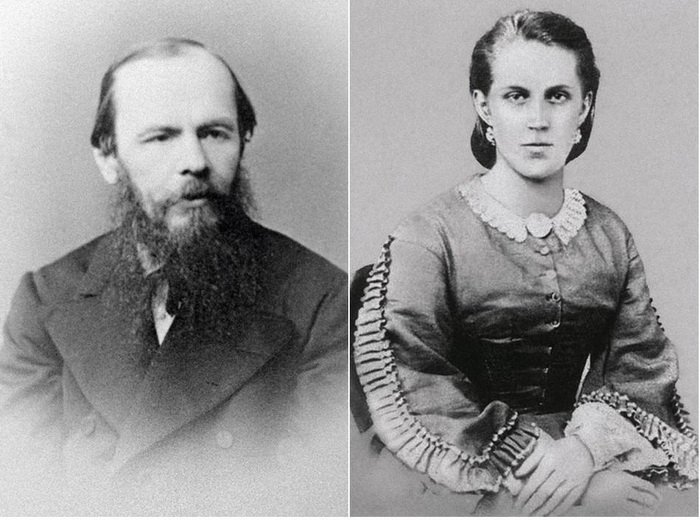 5. Why you decided to write 'Dostoievsky in Love'? He is not the most romantic writer
I think learning about his personal life gives an interesting perspective on a writer that has a reputation for being quite stern and forbidding, or only interested in the head and not the heart. Actually, he was quite sentimental, he had quite an eventful love life, and his personal relationships hugely informed his writing. 
6. Its interesting this lover of Polina, Amador. Do you know anything more about him? What more was this Spanish guy doing in Paris? From where in Spain he was from? How they met?
Unfortunately I don't know very much about him other than that he swept Polina off her feet (briefly!). They possibly met during a medical consultation as she tried to send him payment when he spurned her – he sent a friend to tell her he was sick when in fact he was seeing another woman. He tried to 'ghost' Polina but she bumped into him in the street and was full of rage. 
7. It seems that the real love was Anna Grigorievna. What made them match so well? 
Initially Dostoevsky noticed that Anna was hard working and diligent. As he talked more with her, it became clear that she was very intelligent, kind and had a strong sense of justice. She had huge admiration for Dostoevsky's talent before she met him, but she was also moved by the difficulties in his life and his sincere desire to find happiness by starting a family. After they were married, Anna's love was put to the test – Dostoevsky lost so much money at roulette that he ended up pawning their wedding rings, and two of their four children died before they were five years old. That sort of suffering might end many marriages, but it only strengthened their love. 
8. We find Polina in his literature. But do we find Anna (aparte from the mourning mother in 'Brothers Karamazov'?
I think Dostoevsky tended to write about people from his past more than people from the present – so we can see traces of his first love, Maria Isaeva, in Crime and Punishment after her death, and a clear parallel with Polina in The Gambler and elsewhere once they had broken off their affair. But we must remember that Anna was the one taking down the dictation, and perhaps Dostoevsky valued his marriage too much to go there!
EN ESPAÑOL: 200 años de Fiódor Dostoievski: cárcel, cuernos, casinos y amores
11.11.2021 marks the 200th anniversary of Dostoyevsky's birth. In St. Petersburg I located his great-grandson, Dimitri Dostoyevsky: bearded, smoker, sweet tooth… like Fyodor. He tells me how the genius 'fought' against Hitler after his death and the weight of the surname in the USSR.